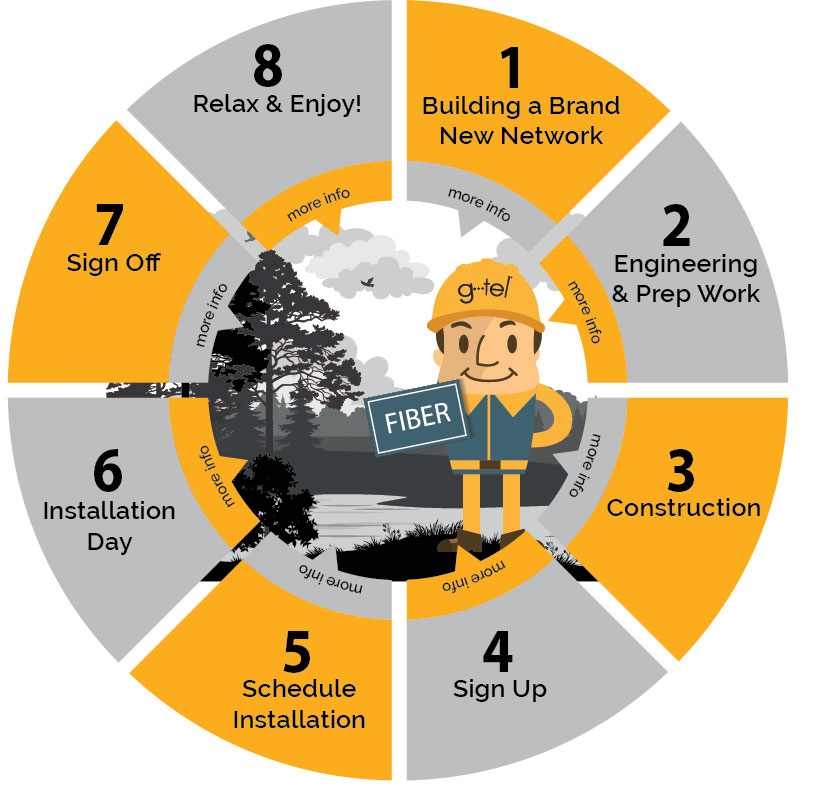 Building A Brand New Network
Our multi-year fiber network project will cover the townships of Germantown, Clermont, Livingston, Gallatin and Taghkanic. This is a large
multi-year project, made possible through the support of the New NY Broadband Program, that will be completed in several phases.
Engineering & Prep Work
It takes a lot of strategy and people to create an efficient plan of construction. We map and prep for the fiber build
with items like: underground investigation, private property access, utility pole examination, and tree trimming.
Construction
We began laying the ground work for the placement of our express fibers in 2017. Underground and overhead placement of fiber optics are
placed to construct our main network. This will feed over 4,000 homes and will cover over 400 miles of fiber.
Sign Up
You'll be notified when your home is ready to "sign up" for service. Visit Gtelfiber.net to select the services you want installed. Depending on
the size of your Fiberhood and the status of our day-to-day operations, it may take up to two months before your scheduled installation.
Schedule Installation
We'll contact you to schedule your in-home installation. At this time we will review and verify your service choices and schedule a date and time
that fits your schedule. Once you're scheduled, we will begin the outside work to connect your home to the main-line fibers.
Installation Day
On the day of your scheduled installation, our Technician(s) will do all of the work. After discussing your needs and his/her recommendations,
they will install your equipment, and demonstrate the key features and functionality of the devices installed in your home.
Sign Off
Once your connected, our Technician will review the work completed and confirm all wired and Wi-Fi connections are working to your satisfaction.
If you're happy with your services, we'll ask you to sign off on the work and officially complete your GTel Fiber installation.
Relax & Enjoy!
Sit back, relax and enjoy your new GTel Fiber services! We appreciate and value you as a customer, from our family to
yours: Thank you for choosing GTel!