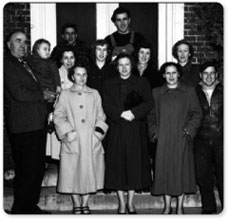 The Germantown Telephone Company began in 1905 when there were but two telephones.   In 1929, Mr. and Mrs. Alvin J. (A.J.) Bohnsack, purchased the company, changing it to the family owned and operated company it continues to be today.

Germantown Telephone Company became GTel in 2007. All voice, video and Internet services are now being marketed and sold under the GTel logo. Building upon the steady industry transition to an all Internet protocol (IP) world, GTel began offering IPTV video service in 2008.  To deliver GTel customers the ever increasing amount of bandwidth required for data and video, in 2009 and 2010 GTel completed construction of Phase 1 and 2 of a Fiber-to-the-Home (FTTH) project. These two initial Phases totaled over 30 miles of fiber optic cable being placed throughout the service area which passed approximately 800 homes. In 2011 GTel placed into service a new MetaSwitch switching platform that will offer a host of IP voice services which will complement and expand the total IP platform of voice, video and data. Today GTel provides a full complement of truly state-of-the-art IP based services all with a dedicated workforce of seventeen employees. Telephone subscribers have grown from two telephones in 1905 to more than 2500 access lines in 2017, and after 88 years the company is still owned and operated by the third and now the fourth generation of the Bohnsack family.
In 2015, Governor Andrew M. Cuomo announced the Nation's largest and most aggressive state investment in broadband with the commitment of $500 million in capital for the New NY Broadband Program.  The goal of the program is to ensure that every New Yorker has access to high-speed Internet by the end of 2018. After much work and investment, GTel has been awarded funding through the Broadband Program's Phase 1 and 2 to expand their FTTH infrastructure throughout the towns of Germantown, Clermont, Gallatin, Livingston, and Taghkanic.  President of GTel, Bruce Bohnsack, says, "This is a very exciting time for all of us here at GTel.  We have proudly served our customers with local, quality service and support for many years, and are excited to be able to expand our service offerings in our existing areas, as well as introducing ourselves to some new neighborhoods."

For more information on the New NY Broadband Program, visit them online.