Features, Functionality & DVR Services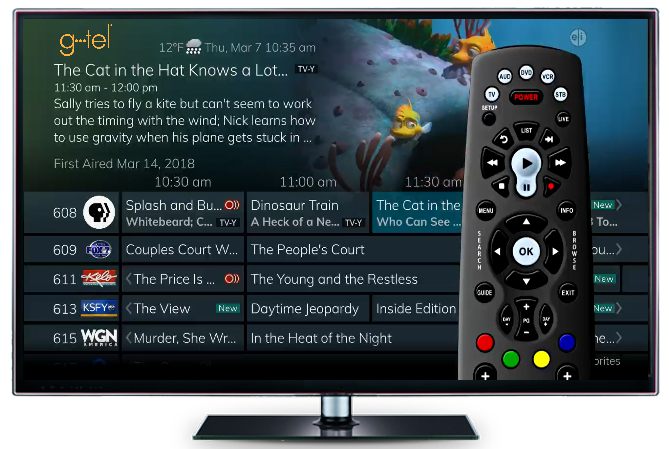 GTel TV Highlights
100% High-Definition & User-Friendly Interactive Guide
Restart TV & Cloud-based DVR
Pause Live TV Functionality
Parental Controls, Search Functionality, and Closed Caption Controls
Guide View Personalization, Local Weather, Games, and more!
Get to know your GTel TV!
There are several features integrated with your television service. We recommend watching the video series below for more instructions on how to use these features with the push of a button on your remote control:
What's Hot app – shows you the top programs being watched in your area, top recordings in your area and top series recordings in your area.
Weather App – gives you the current conditions, a 5-day forecast and animated radar
And so much more. Including guide customization, parental controls, DVR folder management.
Click on the play button below to see what's new and how to use your new upgrades
GTel Cloud DVR Services
Available in our GTel Fiber locations, Cloud DVR gives you all the benefits of our reliable DVR service with the advantage of all of your recording and storage taking place off-site in our network operations center.
50 GB
Basic DVR Service for every Set Top Box. Great for light recorders and those looking for Pause Live TV capabilities.
250 GB
Perfect for moderate recording with Whole-Home capability. Watch, schedule, and edit recordings in any room in your home. Control your Set Top Boxes and manage your recordings with the MyTVs App.
500 GB
Ideal for heavy recording with Whole-Home capability.  You can schedule series rules and create folders to organize your recordings.  Enables Pause Live TV, Whole-Home DVR, and  includes the MyTVs App.
Take Control of your DVR with
MyTVs!
DVR service is meant for people on the go.  So next time you forget to set your recording, you can do it from anywhere, anytime with our MyTVs App!
How does it work?
The MyTVs app links your mobile devices to your GTel TV service and Set Top Boxes. You can view current guide information, future programming, current recordings, future recordings, and more. You can even search through current or upcoming guide data or your recording library for specific programs.  Not only can you set up one-time and series recordings and manage your current recordings and folders, you can use your mobile device as your remote control!
How do I sign up?
MyTVs is included with your GTel DVR service.  Just visit the Google Play or App Store on your smart device and search for 'MyTVs'.  Once downloaded, you'll need to enter some information. Take a look at our MyTVs Quick Start Guide for specific instructions.
If this is your first time setting up MyTVs, you may need to give our Business Office a call to enable access to your account.
DVR Tips and Tricks
Use the links below to learn how to optimize your cDVR experience.
Extended Recording
When recording a live event, there is a chance it may run longer than originally scheduled in the program guide.  You have the option to extend your recording up to one hour longer in order to be sure you record the entire event.  All you need to do is adjust the
Stop Recording
time in the recording options screen.
Bookmarks
Mark specific spots in a recording to refer to later. Push Play on the remote to display the status bar, press the Blue button on the remote to add a Bookmark.  Later, you can press the Up/Down arrows to advance to your bookmarked spots.  Remove them by pressing the Blue button again within three seconds of selecting the mark.
Slow Motion Playback
Press the
Pause
button at the point in the program that you would like to watch in slow motion.  Then use the
Fast Forward
function to play in slow motion.  Press
FFWD
once to play at ¼ speed, or twice to play at ½ speed.
Folders
Folders allow you to organize the recordings on your DVR by user, program type, or any other way you may choose.  You can create or move a recording to an existing folder at any time. ½ speed.
Binge Mode Playback
When you are watching programming from a Series Recording and have multiple recordings stored, this mode will prompt you to watch the next recording in a series once you are done with the initial one. Just make sure you adjust the "Keep at Most" number to ensure you successfully record all of the episodes in the series.
Skip Fwd/Back
Press the
Skip Back
or
Skip Forward
buttons to move quickly back or ahead at a designated period of time.  Each push of the button is defaulted in the menu to skip at 30 second intervals. Personalize your experience in the Recording Settings section of your menu.
Recording Actions
Press the
LIST
button one time to access the list of Recording Folders. Use the colored action keys to navigate through all of your storage and playback options.
A Red Circle indicates a current recording.

A Yellow Check means the recording is new and has not yet been viewed by a user.

A Play Symbol shows the recordings that have been viewed by a user.
What's Recording
Your Cloud DVR service allows you to record up to five programs at a time. Because all of the recording is done in the cloud, there is no indicator light on your STB when it is recording.  You can easily tell what your DVR is doing by simply pressing the OK button.  You can quickly find out what program or programs are recording. You can also jump to a recording from that menu by highlighting and pressing the OK button.